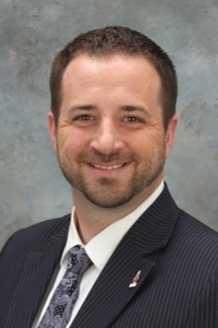 Joshua A. Barnewolt, DC, CCSP
Dr. Josh is a life-long resident of Kickapoo, Illinois. He graduated from Brimfield High School, and continued his education at Illinois Central College and Midstate College, studying the two fields of Architecture and Business Administration. While attending school, he enlisted in the Illinois Army National Guard in the 1st of the 131st Army Infantry, and completed basic training at Fort Benning, Georgia. Post 9-11, he was deployed to Wiesbaden Army Airfield, Germany to protect the installation from terrorist threats in Operation Enduring Freedom. Upon return, he became a Financial Adviser while continuing his education.
He then began his Chiropractic studies at Palmer College of Chiropractic, in Davenport, Iowa. There he completed 308 credit hours in the study of Chiropractic, and became National Board and Illinois State Certified. Dr. Barnewolt furthered his adjusting knowledge by studying SOT (Sacro-Occipital Technique), which is a low/no force system of adjusting the spine using gravity, and a person's own weight resting on strategically placed blocks. He applies this technique, along with traditional techniques, to elicit optimal patient response to care. Most recently, Dr. Barnewolt has completed all of the coursework and examinations necessary to practice acupuncture. He has also become certified in Traffic Accident Reconstruction through Northwestern University, IL, making him more of an expert in car crash cases.
Both have attended Croft seminars on whiplash and brain traumatology, learning of the impact on the human body during low speed automobile crashes.
Together, with his wife, Dr. Katherine E. Barnewolt, Dr. Josh is thrilled to be spreading Chiropractic one individual at a time, with a special interest in sports injury and rehabilitation.
Dr. Josh Barnewolt is currently seeing patients in Kickapoo from:
6:00am to 7:30am on Monday, Wednesday, and Friday
8:00am to 5:00pm on Tuesday
8:00am to 5:00pm on Thursday
and in Peoria from:
8:00am to 5:00pm on Monday, Wednesday, and Friday
Closed Tuesday and Thursday